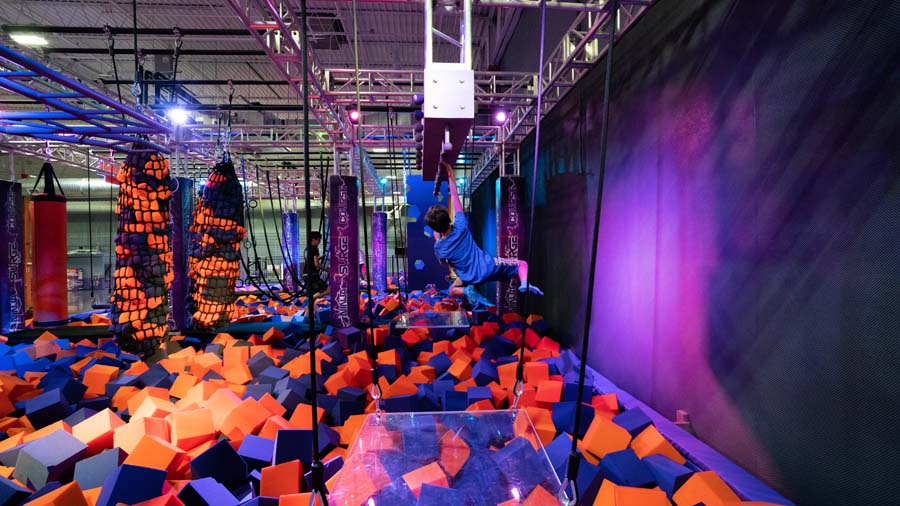 People who tackle a Ninja Course are experienced in defeat and driven to prevail – no matter the obstacle. In other words, they're a little bit crazy. Fun Spot Ninja Courses invite the rookie to give it a try, challenge the ace to keep coming back for more, and compel the phenom to push to new heights. Fun Spot Ninja Courses come with everything needed to engage all skill levels. Just add adrenaline.
1 COURSE. 3 SKILL LEVELS. INFINITE THRILLS.
EASY aka Rookie Level
Introduce kids and Ninja novices of all ages to the fun, athletic Ninja Court experience. Fun Spot EASY obstacles are designed to invite beginners to engage their inner Ninja while keeping participants safe, smiling and coming back for more.
MEDIUM aka Ace Level
Graduates of EASY obstacles and natural thrill seekers will love the challenge delivered by Fun Spot MEDIUM skill obstacles. These challenging features can be tackled with strength, balance and focus, but often, the course beats the competitor – which is half the fun.
HARD aka Phenom Level
Hard-core Ninja warriors say "bring it on" to the catalog of Fun Spot HARD obstacles. These challenging features are designed to be tough, sometimes intimidating, but always safe and always fun.
GROUND BASED OBSTACLES
Take on obstacles at ground or eye-level, with foam pads underneath to keep your competitors safe. Parkour bridges and steps, balance beams and log rolls are some of the attractions we can help you design into your course. Choose from our line of ground based attractions in all.
ELEVATED OBSTACLES
The thrill of Monkey Swings, Hanging Punching Bags, a Ladder Maze and more suspended over foam pits and air bags completes a TV-show worthy course that can be emblazoned with your brand. Choose from several elevated attractions to create your one-of-a-kind experience.
LIGHTS AND COMPETITIVE ACTION
Create drama with LED lighting, custom graphics and timing systems. Competitors of all skill levels enter the course spotlight and gear up to compete against the clock for the fastest course time.